2023 Event News
Dates for the 2023 Cow Town ThrowDown Event have been set. Mark your calendars for October 13th and 14th.
Registration for the 2023 event will open in August.
Exact dates for when registration will open will be posted as we get closer to the date.
Event information
FRC Team #1730, Team Driven, from Lee's Summit High School, is proud to bring you a premier off-season FRC event. This event is open to all high school robotics teams who wish to compete with their robots in a friendly, fun atmosphere. Space is limited, so sign up fast!
The event will be held on the Lee's Summit High School Campus on Friday, October 13th and Saturday, October 14th, 2023. The matches will start at 6 pm on Friday night and will go into the late afternoon on Saturday. Teams will have an opportunity to play FIRST CHARGED UP on a sanctioned FIRST playing field against other FIRST teams. Detailed competition information is available here.
Family, friends, and interested community members are encouraged to come to cheer on their team and learn more about competitive high school robotics.
Participant waiver
All attendees (FLL and FRC) should complete the online release form.
Online Release Form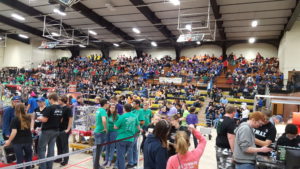 Registration and Payment
To secure your team's place in the competition, please complete the following:
1) Complete the registration form found under Team Registration on this website
2) Write a $400 check made payable to Lee's Summit High School.
Any team that has not paid by October 1st will be moved to the waitlist.
3) Mail the check to:
Lee's Summit High School
Attn: Team Driven Robotics – Wyatt Durgan
400 SE Blue Parkway
Lee's Summit MO 64063
If you are having trouble getting a check cut and mailed, email cowtownthrowdown@gmail.com.